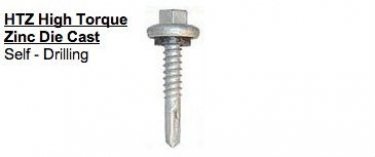 HTZ fasteners exhibit the highest torsional head strength in the zinc die cast market. They are ideal for stitching roof and wall panels, standing seam roof system endlaps and panel over blanket insulation to steel frames.
Patented design provides the strongest torsional values in the industry.
Zinc aluminum cap will not scratch, pierce or damage panels if over driven.
Integral washer design ensures a seal even when driven at a 12° angle.
Patented ABOT Anti-backout threadform is available on ¼-14×7/8" Teks 1.
Climaseal finish provides excellent corrosion resistance and lower tapping.